Oh, hey there…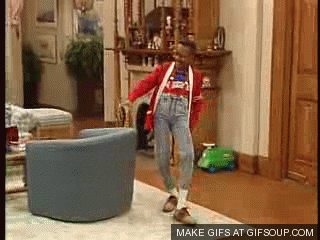 Welcome to Really Short Emails – a project that I began in February 2018.
Really Short Emails is an (almost) daily and (entirely) free email newsletter subscription.
Here's how it works:
You opt-in using the form below. 🖋️
Confirm your email address. 👍
I send you super short emails, (almost) every day. 💌
We do a little groove like Urkel and Uncle Jesse in the GIF above. 🕺
How short are the emails?
Great question. Three sentences or less. Sometimes there might be a link to view more, like to an article I think you'll like, or a video I enjoyed. But the email itself will be really short.
What will the emails contain?
Even better question.
The marketer in me would say – short bursts of rut-busting content, oozing with value, jam-packed with creativity, productivity, and life hacks to help you unleash your true potential and unlock the best of the best for yourself and loved ones.
Honest answer… I have no idea.
(Wait, wait… before you run…)
Emails will likely feature topics I'm obsessed with:
Leadership
Creativity
Self-development
Parenting
Philosophy
Life hacks
Time management
Crushing your goals
BUT, they might also feature these topics:
Retro video games (I fancy myself an amateur historian in the subject)
Books I'm enjoying
Films I've seen
Articles I've read
Videos I've watched
Faith
Food
Really crummy bands from the 90's and 00's (or bands from today that take cues from those crummy bands) that I just can't stop listening to
Now I know you really want to subscribe! 😉 👇
What's the catch?
No catch. I'm in a creative rut and I need an excuse to start writing again, connect with real human beings (that's you) and share awesome content.
I promise this won't turn into a sales-y thing with pitch-fests for products I want to sell you. As of this writing, I have nothing to sell. I hope to publish a book one day, and if so, I'll share that with you (but only in three sentences or less.)
Also, if the frequency or content starts to rub ya the wrong way… I'll have a big UNSUBSCRIBE link at the bottom of each and every email. I totally respect your privacy and right to receive messages.
How ya like me now?
If you have any questions about this whole thing, shoot me a message. If it's not your bag (baby), that's totally cool. Feel free to ignore.
If you do, however, want to take a chance and see what the hullaballoo is all about… subscribe below. It might just be exactly what you're looking for.
See you in the inbox. 🙂